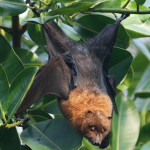 Date: Saturday 20 February 2016.  Time: 6.30 pm – 8.15 pm
What's on: meet live flying-foxes up close (in a safe environment), your questions answered, displays, craft activities for kids, refreshments, watch the spectacular nightly fly-out approximately 20 minutes after dusk from Rosedale Rd Bridge.
Location: 2nd Gordon Scout Hall, Rosedale Rd, Gordon , Upper North Shore Sydney, 2072 (just north of Rosedale Rd Bridge, almost opposite Glenview St).
Parking: available in the laneway to the scout hall as well as in Rosedale Rd and nearby streets.
Public transport: 2nd Gordon Scout Hall is 10 – 15 minutes' walk from Gordon railway station.
Children: this event is suitable for children 5 years and above (all children must be accompanied by a responsible adult at all times).
Cost/bookings: This event is free but bookings are essential. Numbers are limited to ensure safety of participants when viewing the fly-out.
Wet weather: this event will go ahead rain or shine, with the proviso that watching the fly-out may have to be cancelled in the case of heavy rain/extreme weather.
Bookings: web@sydneybats.org.au or call/text 0428 981 420. Please provide first name/surname and include ages of children. A mobile phone contact for the 20th would also be useful.